Video: Symfony and Content Management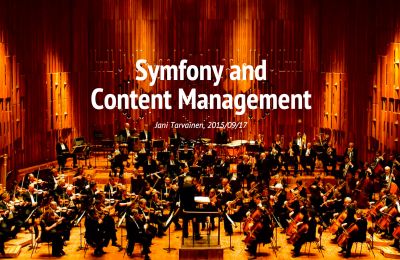 Wide adoption of any specific technology is a great thing for developers, as you can now use your skills across different tools - without huge investment in application specific templating engines, etc. Symfony is now at the epicenter of such popularisation in the common domain of LAMP CMSes.
This talk presents some Symfony components and other tools that you can use across different Content Management Systems that use Symfony in different ways. It was presented at the Symfony Helsinki Meetup on September 17th, 2015.
You can also view just the video on Youtube: Symfony and Content Management (CMS)
Presentation Slides
Navigate slides with arrow keys or view Symfony and Content Management slides full screen.
---